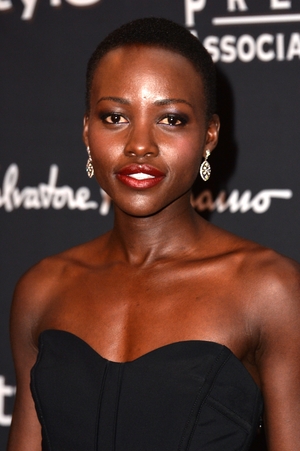 @Kaphrayra
Kenyan Hollywood actress Lupita Nyongo will be receiving the Breakthrough Performance Award at the 25th annual Palm Springs International Film Festival come January 4th 2013.
She will be receiving her award alongside Hollywood bigwigs Sandra Bullock, Julia Roberts, Director Steve McQueen, Bruce Dern and Matthew McCounaughey who are also set to be awarded at the ceremony.
Many winners of this award which includes the likes of Marah Carey, Jennifer Hudson and Jeremy Renner have made it to their dreams of securing an Oscar Award.
Just recently,  Lupita was awarded the 'New Hollywood Award' at the 17th Hollywood Film Awards.
Here are some of the awards she has won and been nominated for:
Boston Online Film Critics Association Award for Best Ensemble
Boston Online Film Critics Association Award for Best Supporting Actress
Hollywood Film Award for New Hollywood Award
Los Angeles Film Critics Association Award for Best Supporting Actress
New York Film Critics Online Award for Best Supporting Actress
Palm Springs International Film Festival Award for Breakthrough Performance Award
Washington D.C. Area Film Critics Association Award for Best Supporting Actress
Washington D.C. Area Film Critics Association Award for Best Ensemble
Nominated—Boston Society of Film Critics Award for Best Supporting Actress (runner-up)
Nominated—Gotham Independent Film Award for Best Breakthrough Actor
Nominated—New York Film Critics Circle Award for Best Supporting Actress (runner-up)
P Unit won two awards for their smash hit You Guy at the Channel O Music Viseo Awards last weekend in South Africa, beating off stiff competition from Uganda's Radio and Weasel for their song "Cant Let You Go".
The first award was in the Most Gifted Dancehall/Reggae video category which also had , Buffalo Souljah – Basawine
, Kaakie – Too Much, Jesse Jagz – Murder Dem and Radio and Weasel – Can't Let You Go.
The second accolade was in the Most Gifted East African Video which had strong contenders who are also heavyweights in East Africa's music scene, Tanzania's AY/Marco Chali – Party Zone, Uganda's Radio & Weasel – Can't Let You Go, Kenya's Sauti Sol – Money Lover and Uganda's Navio – Kata.
The video was shot in Nairobi by Africa's music video guru Clarence Peters who has been working with Mtech Kenya. The company was responsible also responsible for some of Camp Mulla's videos which were nominated by BET Awards making them the first group from Kenya to ever get nominated at the Awards for the videos, Party Dont Stop and also done by Clarence Peters.
According Mtech Kenya's Artist Manager, Benie Amanda "Mtech believed in P Unit and we are glad to see that our partnership with them is bearing fruits, we wish them all the best and will continue supporting them as much as we can".
Strategic communications provider, Gina Din Group was feted as the best PR firm in the country during the 2013 Public Relation Society of Kenya (PRSK) annual awards held in Nairobi.

Gina Din scooped the overall award in the PR campaign of the year category. It bagged four other awards in the eight entries, emerging as the most feted PR firm in Kenya.

"We are excited at this awards that signify the efforts placed in doing our best for our clients. As an agency we take exeellence as a critical part of our service offering especially coming in the wake of our recent rebanding. " said Eddie Ndegwa, CEO, Gina Din Group.

Gina Din Group made six entries into the annual awards cutting across various sectors.


The street dance dubbed Orange Beat Ya Street won in the Technology category while the Chagua Peace campaign that championed for peace during the March General Elections in March won the Public Sector Campaign category.  The group bagged  the PR event of the year award following the successful rebranding. The group through Angela Bor won in the student category.

These awards come hot on heels of the recent rebrand that saw the formation of Gina Din Group through a partnership between Gina Din Corporate Communications and Imagine IMC, providing the market with a wide range of integrated services in the expanding communication industry. The partnership saw it expand its regional footprint.

Gina Din Kariuki, Group Chair, Gina Din Group expressed the firm's commitment to contributing to the growth of the industry.

"Gina Din Group stands for excellence and we are keen on using our expertise and creativity to not only achieve client objectives but to also build the ever growing PR industry in Kenya and the East African region."
@Kaphrayra
Congolese music star Kanda Bongoman's fans in Mumias were recently shocked to find him serving at a petrol station in the locality.
Kanda joined the attendants at Magharibi Service Station to serve customers as part of his service to the community in commemorating Kenya's 50 years of independence.
He is in town for various shows across Western Kenya and has decided to use his free time to reach out to the local community that makes a huge part of his fans. 
He also engaged in tree planting in several homes which he visited in Kakamega County.
He revealed that he was happy to be in Kenya for the celebrations whilst appreciating the kindness and generous support from his Kenyan fans.
@Kaphrayra
Recently,  a Kenyan Manchester United fan committed suicide because his team lost to Newcastle in the premiere league. Well, radio presenter Ciku Muiruri has a word or two for the Man U fans.
Read it below;
Dear Man U Fans, 

After news of the guy who netted himself over the weekend it's time for an intervention. Although it might seem as if your pain and unhappiness will never end, it is important to realize that crises are usually temporary. Solutions are often found, feelings change, unexpected positive events occur. Remember: Suicide is a permanent solution to a temporary problem. Give yourself the time necessary for things to change and the pain to subside. Do something else. Watch netball. For heaven's sake, don't watch the massacre if you're not strong enough to take it! 

This message is brought to you by SSW (Soccer Suicide Watch). Our tag line - It's never that serious people! 

Helping losers cope since 2005. 

Regards,
Top of the Table Leaders,
The Gooners.
@Kaphrayra
Kenyan Stars and CHOAMVA Winners P-Unit have expressed their gratitude to those who voted and supported them enabling them to clinch two awards at the prestigious ceremony held in South Africa.
In an update via their facebook page,they announced that they were headed back home as they shared their gratitude.
Heading back home! Thank you from all of us. For your votes and support. We now bring the awards home as promised!#ProudlyKenyan Thank you again!
Congratulations are in order.
Vibeweekly has been in contact with Scratchylus, a reggae artist from Jamaica. He tells us that he wants to tour Kenya and Africa as part of his initiative "Change The Mindset".
The artist says he is on a mission to impact society with positive vibes and inspiration. We spoke to him and this is what he says.
Firstly can you tell me who is Scratchylus?

Scratchylus is an artist who uses WORDS, SOUNDS and POWER to create awareness of corruption and injustices and to enlighten and uplift.

 What inspired you to get into the music industry?

My earliest memories of music were listening to my mum playing reggae classics on a Sunday while making breakfast. Since then I have been hooked on Dennis Brown, John Holt, Bob Marley and Ken Boothe among other artists. Scratchylus  hastens to add that he likes all genres of music but his real love is Roots Rock Reggae.

Tell us about your musical journey.

Scratchylus musical journey covers many continents it started in London in the late 1990's on sound systems such as Java, Nuclear Powa, One Love Sound  andmanystage shows up and down the UK. It was while working with all these sounds that I was introduced to laying vocals in a recording studio.

Inspiration for Reset the Mindset came when I went on tour to Belgium in April 2010 followed by a tour to The Gambia where I met His Excellency Dr YayaJammeh the President of Gambia. He told me that the 3 words Reset The Mindset were the most powerful words he had heard from a musician for a long time. He gave me his name Sene Jammeh which means prophet. While in the Gambia Luciano,Mikey  General and I  performed at the national stadium before 40000  fans, the President, and his ministers. When I came to Jamaica I was determined to redo Reset The Mindset with the original Jamaican sound i.e live bass, live horns, and live guitar. The combination with The Legendary Kiddus I was perfect  his voice is melodic as you can hear in his famous iconic movie, Rockers where Kiddus I sings 'Graduation in Zion'

The first musical song I did in Jamaica was called 'A True' a tribute to the Legendary Dennis Emmanuel Brown featuring Bushman.The song featured on many charts and the video can be found on youtube.The second song I did 'Our Story' was with the Legendary Inna De Yard, Sizzlakalonji and my daughter Empress Reggae.It was a big hit in Jamaica, Africa, America and all around the world. It was chosen for Black History month song 2012 in the UK.

Then I moved on with my uptempo 'Dem Can't Visit The Frontline with Junior Reid which is still topping the video charts in Jamaica and around the world. Other songs include slave master a tribute to Gregory Issaac, 'Choose your lover right' which is done with The Legendary Alton Ellis and 'Who built the pyramids google it google it' with my daughter which is playlisted around the world.

Where did you get theinspiration for Reset The Mindset?

The inspiration came to me from my ancestors. It was a vision to cleanse mankind and womankind. The need to have context in education, join the dots, to raise the next generation and it is mind over matter not matter over mind. We encourage people to act accordingly and recordingly.

Any message to our readers?

Prevention is better than cure. Thinking and thought come before words and action. People thinking before their actions are people Resetting their Mindset.

Scratchylus says he would like to give glory to Emperor Haile Selassie 1 and would like to Pay tribute to the Royal Inna De Yard Family,  The Legendary Earl Chinna Smith, The  Legendary Kiddus I, The Legendary Ras Michael, The Legendary Styles Scott,  Steven Stewart (Harry J) Ben-Up(Channel One) Bobby Digital, Junior Reid and The One Blood Family, SizzlaKalonji and Judgement Yard and big up his daughter Champion Empress Reggae.

For more information on Scratchylus

https://soundcloud.com/scratchylus/sets/album-preview-for-promo-only
www.facebook.com/scratchylus.rhymes
www.facebook.com/scratchylus.reuben
Twitter @Scratchylus
@Kaphrayra
Top Kenyan artist Juliani has come out on social media campaigning against the performance of foreign artists at the Kenya 50 celebration concert.
Juliani was responding to rumours that the government might be considering bringing in foreign artists for the event. 
He advocated for local talent, especially the veterans known for 'Zilizopendwa' and urged that the government use this opportunity to celebrate the talent and diversity within the country's walls.
Looking forward to the @kenyaat50 concert.Enjoy other 254musicians performance.I hope the rumours r not true.No outside artist 4 this one!

— Juliani (@JulianiKenya) December 10, 2013
To whomever it may concern the #Kenyaat50 secretariats.No outside artist 4 this one.Ana day but not 50 yrs celebrations.Let's celebrate us.

— Juliani (@JulianiKenya) December 10, 2013
Get us hard stone,Kshaka, Swahili nation and all the legends. From river-road, macha wood to every corner of the 254 but NO! Outside artist.

— Juliani (@JulianiKenya) December 10, 2013
Mary Atieno, Kasangas all the musicians we grew up with. Mursik music!! Original Kenyan music!

— Juliani (@JulianiKenya) December 10, 2013
We have Asia/white Kenyan community would like 2share &learn from their culture.Diverse expression of who we are& hope to become.

— Juliani (@JulianiKenya) December 10, 2013
Actress Lupita Nyong'o Bags Yet Another Award

Mtech Pulls Off Another Win With P Unit

Gina Din Claims Top Spot in Kenya's PR Sector

Congo Music Star Kanda Bongoman Now A Petrol Station Attendant???

CIku Muiruri Advises Man U Fans After The 'Suicide' Saga

P-Unit Thank Fans For Their Win At CHOAMVA

Jamaican Artist Set To Tour Kenya To Promote "Reset The Mindset" Initiative

Juliani Campaigns For Local Artists For The Kenya50 Concert